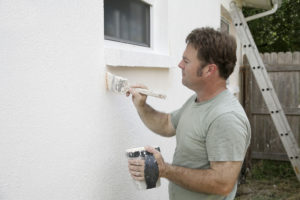 Home painting can be a fun experience. However, when it comes to exterior house painting you have to consider the extent and the challenges of the job. Also, let's not forget that for the inexperienced the job may take longer than anticipated. Exterior home painting is not an easy work, you may want to get the job done by trained painters.
Many think that painting is just an easy thing to do, but what most don't realise is that painting also needs patience, skills and the right tools especially if you are concentrating on the exterior.
You will not just do a repaint and not clean the walls and scrap the sharp edges to prepare for the actual painting. Since you will be repainting the exterior, you will mostly be needing a high ladder to concentrate on the high areas of the walls. There is really a lot to consider.
Reasons to hire professional painters
First, it is for your safety. Since the exterior of your home is more challenging than the interior, it is just natural to just get the help of a professional since they have the proper equipment to get the job done safely and properly.
More savings. Since they have all the right tools to use, you do not have to spend extra for those because they already have it. No need to buy high ladders, expensive brushes and so on because they already own them.
How to hire someone you can trust
You don't just hire someone to do the job because you need people you can depend on and get the job done right. Hire a house painting team or company that has extensive experience in the business. Make sure to use home painting services known for delivering quality results.