Morocco: An Emblematic Destination Connecting the World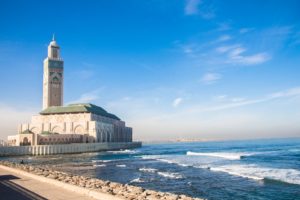 Located at the crossroads of continents and seas, Morocco hypnotizes the world due to its unparalleled natural beauty and special charm. It is an experience on its own to travel to Morocco, the country that even Humphrey Bogart could not resist. What is it about Morocco that makes it so exquisite? Is it its cosmopolitan and mysterious aura?
Standing right between Africa and Europe, bathed by the Mediterranean Sea and the Atlantic Ocean, Morocco boasts its impressive cultural influences and takes the world by storm!
Marrakech is one of the most popular cities in Morocco, world renowned for its narrow streets and impressive markets. From the center of the Old Town, you will be able to stroll at the neighborhoods of Marrakech and bargain for amazing items, such as pottery and jewelry, scarves and cosmetics. Of course, besides the local markets you will also have the time to gaze at the fine gardens and the unspoiled landscapes.
Moving on to the Moroccan capital, Rabat, you will be surprised by the feast of aromas, flavors and colors. The old city is a hidden gem, well preserved for those lucky few who choose to visit Rabat. Fes (or Fez) is the second largest city of Morocco, once its capital and now still maintaining its cosmopolitan style.  You are strongly encouraged to visit the 11th century Chouara tannery, where workers paint the skins under the sun.  If you want to see them in action, do not forget to take mint leaves to avoid the smell!
Casablanca is obviously well-known from Hollywood. It is definitely one of the most popular places among tourists, but this does not mean that it lacks special attractions. For instance, you should definitely visit the whitewashed cathedral of Casablanca and the mosque of Hassan II.
And there are endless other places you can visit, apart from these major tourist hubs. Chefchaouen is a picturesque village, world famous for the distinctive houses painted in blue. Merzouga is a wonderful town in the Moroccan desert worth visiting. Tangier has one of the
loveliest harbors in the world, while Meknes is perhaps one of the places where travelers get to see the real Moroccan architecture in its magnitude.
For all these reasons and for countless others, you should be looking forward to your travel to Morocco. A fine place in the world, where the multicultural influences have managed to create a true masterpiece!