Paris: A Journey to the City of Light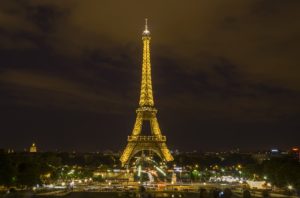 Paris is the capital of France. But it is much more than that! It is a wonderful, glamorous city, a place where history blends marvelously with contemporary standards. And above all, Paris is the epitome of romance. This is the place where couples in love celebrate their passion and exchange vows of eternal affection and devotion.
Traveling to Paris
The iconic landmark of Paris is without a doubt Eiffel Tower. Its height is imposing, reaching 324 meters. Up from above, you can use the observatory decks to gaze at the city and enjoy the vastness of the infinite blue sky. One of the most photographed places in the entire world, Eiffel Tower stands tall and reminds everyone of Paris.
Then, the Museum of Louvre is another major attraction not to be missed when visiting Paris. Once used as a Palace, now it serves as one of the largest and most significant museums in the world with masterpieces such as Mona Lisa.
Nobody can ignore the amazement of Disneyland in Paris. Both kids and adults are able to step into a whole new world. A world where fairytales are fused with reality and the outcome is purely mesmerizing. Mickey and Minnie, Donald Duck and Pluto, as well as Peter Pan and Ariel, Captain Hook and Snow White, these are just few of the Disney heroes you are going to meet in the premises.
Furthermore, you should take a stroll till you reach the Arc de Triomphe de l'Étoile. This is by far one of the finest historic monuments in Paris, located at the western side of Champs-Élysées. Notre-Dame Cathedral is a Catholic church, world renowned for the impressive architecture and the bibliography related to the Cathedral. Sacré-Cœur is another church that has made it to the top of the list with the must-see places in Paris.
Nature enthusiasts are definitely going to love Jardin du Luxembourg, a park dating back to the 17th century. Gardens, flower formations and statuettes compose a dreamy location, ideal for leisurely strides. The historic district of Le Marais is a place for enjoying a cup of warm coffee at one of the bistros or indulging in endless shopping. And last but not least, a visit to Montmartre is well worth the trouble. A large hill well over 130 meters in height, the whole district is enchanting and amazing in its originality.
Explore Paris and fall in love with its genuine beauty over and over again!